The secret is finally out. We're launching The PIT, an institutional-grade crypto trading platform that will redefine the speed, reliability, and liquidity retail crypto traders should not only expect, but demand, from their crypto exchange.
Last July, we set out to build the fastest matching engine in crypto to ensure that the failed trades and broken markets that plagued the last crypto bull market wouldn't hold-back traders in the next cycle.
We built an all-star team of veterans from NYSE, TD Ameritrade, Google, Goldman Sachs, UBS, Interactive Brokers, and Revolut, to build it from the ground-up (we'll have more blogs on the team behind The PIT throughout the week!).
And what we delivered is not only the fastest in crypto by an order of magnitude – we measure in microseconds, not milliseconds – but a matching engine that could go head-to-head against any machine engine in the entire world.
We've never been a company of hyperbole, choosing to build rather than shout, but The PIT will fundamentally alter the crypto exchange ecosystem forever.
Here's what you'll find when you Enter The PIT:
The Fastest Matching Engine in Crypto
This velocity isn't like the top speed on a sports car that you'll never reach without breaking more than a few traffic laws. It's tangible, and immensely important when volatility spikes, news breaks, and the market is flooded with orders.
It's the difference between maximizing your profits at the start of a 10% plummet, and taking the full weight of that loss on your holdings. The difference between fair, orderly markets and manipulable, chaotic platforms.
In short, speed is the key to unlocking the vast potential of trading cryptocurrencies. It's the beginning and the end. The Alpha and Omega.
And for too long, it's been missing.
Peerless Reliability and World-Class Infrastructure
Raise your hand if you've tried to make a trade only to find that the exchange holding your assets was down? Or if you've placed an order only to have it linger on the market and not fill, even when the market reaches your hit price?
Most of the time, this comes down to exchanges cutting corners to save costs, instead of upgrading to institutional-grade infrastructure.
From the first meeting of The PIT Crew, reliability was a cornerstone of the platform, just as it's always been for over 40M Blockchain Wallets.
We don't just host our exchange in the cloud alongside slow, consumer applications like many exchanges. We use Equinix LD4, one of the most reliable and lowest-latency data centers in the world. LD4 is the computing infrastructure underpinning many of Europe's largest global finance, technology, and media companies.
It isn't cheap or easy to stand-up technology in LD4, but we'll never settle for anything less than world-class technology.
Institutional Liquidity Provided by Leading Market Makers
When it comes to liquidity, you don't know what you've got til it's gone. As too many of us discovered in late 2018, what seemed like deep pools of liquidity across major venues wound up being thin puddles that evaporated in seconds.
Spreads widened from cents to chasms. Trades failed. Order books halted.
To ensure that would never happen on traders in The PIT, we hit the pavement to negotiate and secure agreements with global market makers to provide constant, streaming liquidity on our exchange. With these market makers already onboarded, traders will have access to actionable liquidity for 26 trading pairs of fiat-to-crypto and crypto-to-crypto
So if you're in the market for $100 or $100K, you can trade when you want, not just when you can.
Accessible to Traders of Any Sophistication
Crypto exchanges too often try to pass off complexity as the power of their product. Overwhelming users with a long list of order types, charts, and niche data, without options for users to customize their interface.
The PIT's user interface enables traders across the entire spectrum of sophistication to achieve the right amount of market insight for their needs. With just the right amount of order types, and multiple dashboards for price graphs and charting packs, you're equipped to discover and act on your strategy.
If traders have any questions, our dedicated user operations team will ensure user success with its deep trading experience and market structure knowledge.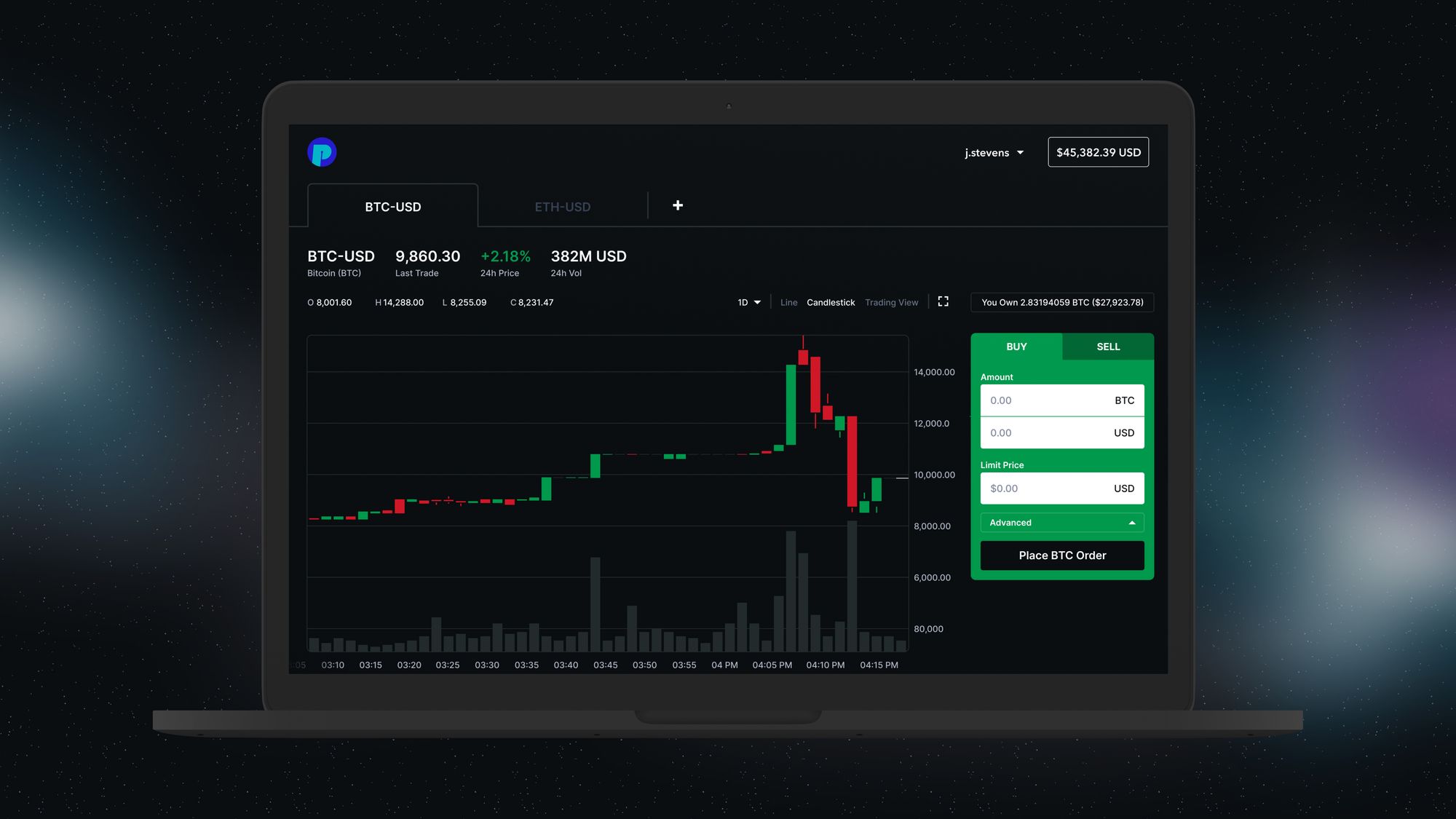 Connected to Global Banking, but Empowers Non-Custodial Services
To ensure and encourage users to maximize control of their private keys, we've created a seamless connection function to link Blockchain Wallets with trading accounts on The PIT for easy deposits and swift withdrawals into their non-custodial wallet.
One of the persistent challenges through the first decade of crypto has been the lack of reliable on and off ramps for fiat. It's a challenge that isn't going away soon, but we've developed an extensive global banking network across the EU, UK, and US to ensure users can easily and securely fund their trading accounts with fiat.
There are very few exchanges in the world with those capabilities. And even fewer, if any, that will hold themselves to the core DNA of cryptocurrencies empowering financial sovereignty.
We're thrilled to be bringing this exchange to you all, but our devout belief that non-custodial services will be the future of finance has never, and will never take a backseat.
Get in. Cash out.
It's time. Enter The PIT.
We can't wait for you to meet The PIT, and begin trading crypto how it's meant to be traded – fast, reliable, and liquid.
You can now create your PIT Account by going to pit.blockchain.com so you're all signed-up, funded, and ready to make moves on our first day of trading soon.
For more info on The PIT, including news, insights, and promotions, follow us on Twitter @BlockchainPIT and Telegram @BlockchainPIT.