Unus sed leo was a notable gainer on Thursday, as the token surged towards a one-week high. The move comes as crypto markets seem to have settled, a week on from the turbulence caused by the FTX collapse. Monero also rallied, climbing above the $130 level.
Monero (XMR)
Monero (XMR) was closing in on a one-week high on Thursday, as market volatility eased a week on from the FTX collapse.
XMR/USD raced to an intraday high of $132.97 in today's session, which comes a day after trading at a low of $127.09.
Today's move saw monero hit its highest point since last Friday, and it is now marginally below a ceiling of $133.50.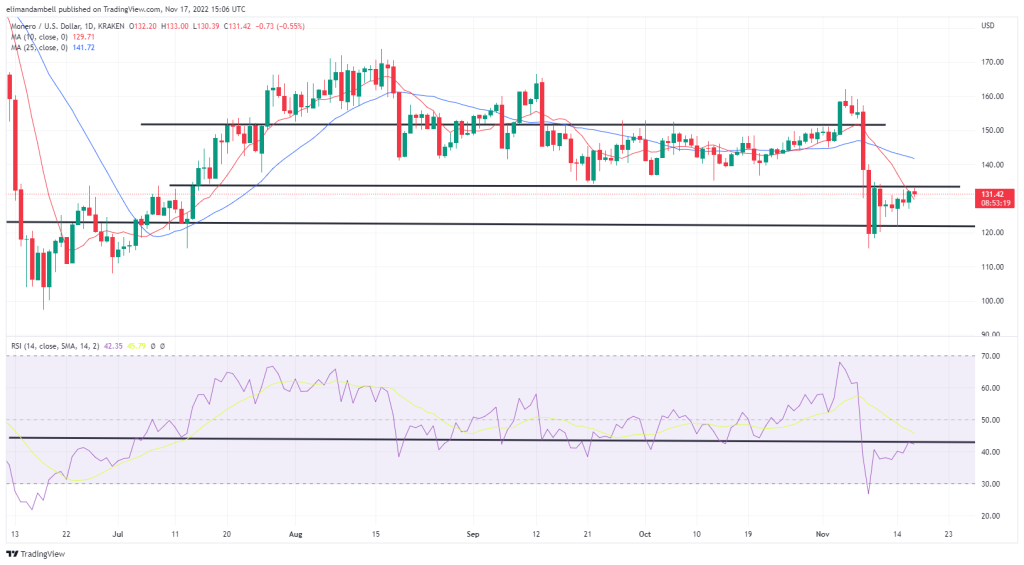 Looking at the chart, earlier gains have somewhat eased, as traders became nervous the closer price moved to this ceiling.
The 14-day relative strength index (RSI) also collided with a key resistance level of 43.00, and as of writing is tracking at 42.09.
Should bulls intend to move prices above $133.50, this ceiling of 43.00 will need to be broken first.
Unus Sed Leo (LEO)
Unus Sed Leo (LEO) was another notable gainer in today's session, as prices also neared a one-week high.
Following a low of $3.78, LEO/USD raced to an intraday peak of $4.04, hitting its strongest point since November 11.
Currently LEO is trading over 5% higher than yesterday's bottom, and is nearing a breakout of a long-term resistance level.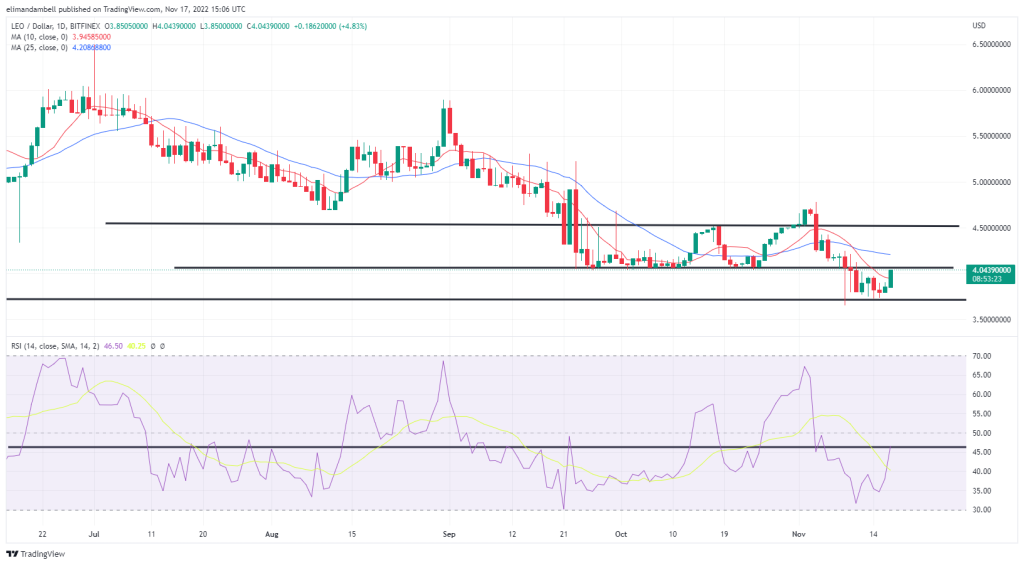 LEO/USD is still hovering below this ceiling of $4.05, which comes as the RSI also sits below a resistance of its own.
As of writing, the index is tracking at 46.49, which is under its aforementioned resistance of 47.00.
In the event of a breakout, LEO bulls will likely attempt to move towards the next closest ceiling of $4.20.
Register your email here to get weekly price analysis updates sent to your inbox:
Do you expect to see crypto markets begin to rally as the dust settles on the FTX saga? Let us know your thoughts in the comments.
Image Credits: Shutterstock, Pixabay, Wiki Commons